About Us
The colours for Atomic Tattoo Ink are created using innovative and avant-guarde formulas, perhaps the most advanced in the world of Professional Tattooing.
This new formula, after years of research and countless trials, aims at creating a shiny a rapid ink which gives the finest results in terms of brightness which passes the test of time.
All the inks respect the strict European legislations ResAP(2008)1 with regards to the release of aromatic amines, PAH and content of heavy metals.
All inks are sterilized to guarantee absolute microbiological safety.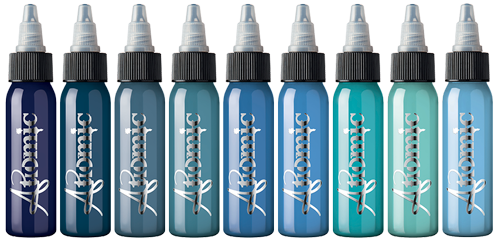 A never ending explosion of different colours are available. Bright inks and fluids, vivid and glossy inks that shine on your skin.
Atomic Tattoo Ink will offer a performance on your skin which has no limits and incomparable results.