Vision
Production
Atomic Tattoo Ink colours are produced in Germany with Management System for Quality certificate ISO 9000:2000. The raw material is the result of careful analysis and research and contains cosmetic and pharmaceutical ingredients. Guaranteed traceability of every single bottle from beginning to end, from its production to its final distribution. We manage the raw materials' traceability and of the single batches with a cutting edge IT system: SAP.
Certificates
We analyse all raw materials and can offer proof of this.
We use independent laboratories.:
Raw Materials: CTL Bielefeld, Krackser Str.12, 33659 Bielefeld, Germany.
Microbiological Tests: MTL Bad Elster, Brambacher Str.17, 08645 Bad Elster, Germany.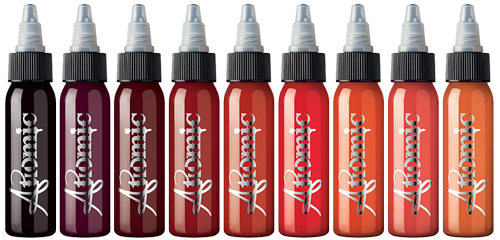 Perfomances
Atomic Tattoo Ink are at the top of their game when it comes to safety. At the same time they are also beautiful, shiny and fluid.
They offer great results because of its unique characteristics: they are liquid and simple to use and offer the maximum colour density, because of the fluidity of the pigment under the skin.
They are produced by dispersion with quality cosmetic ingredients.
Atomic Tattoo Ink do not lose their shine and saturation when healing. How can this be????
The trick is: less bleeding!
Less bleeding means less "dilution" of the pigment under the skin.
It also means that the colour is attaching itself more efficiently because it isn't impeded by the blood coming out.
Less blood means less scabs, less recovery time…and great colours!
Atomic Tattoo Ink doesn't lose its shine with the passing of time.